* affiliate links disclaimer
---
Kampot
During the French reign Kampot was favored by the French as one of their favorite getaways. The Elephant Mountains were an ideal escape from the brutal Cambodian heat. Also the Praek Tuek Chhu river proved to be the perfect playground for leisure activities like fishing, swimming and boating. Several crumbling and in some cases eerie remains of French architecture are still visible throughout the area. The former French visitors however, have since been replaced by NGO and English teacher expats. Furthermore, Kampot is subject to a steadily growing number of foreign and domestic tourists as well.
The area is famous for quality pepper and tropical fruit like mango, coconut and durian This riverine town has the best of all worlds with a more than pleasant urban vibe and magnificent fertile rural lands surrounding it. Even more so, as said Kampot is bordered by the Elephant mountains in the West, but also by the Thai Gulf in the South. What's not to love?
---
If you like this article why not share it on Pinterest? Click on the save button in the image below. My everlasting gratitude will be your reward. Thank you!

---
How to get to Kampot
Multiple minivans and busses leave from Phnom Penh and Sihanoukville to Kampot every day. For bus/ferry/train schedules and tickets for most routes within Cambodia I always use the transport planning tool below from BookmeBus.com to book online.
Especially during high season and public holidays it makes sense to book ahead to secure your seat(s). The tool is incredibly easy to use, just fill out your place of departure, your destination and travel date. It will show the complete schedule and ticket price of all related transport. Make your choice and book instantly.
There's also a train between Phnom Penh and Sihanoukville with a stopover in Kampot. Until further notice it only runs in weekends and on public holidays. Tickets from Phnom Penh to Kampot are $7. Check the train schedule here.
---
Getting around in Kampot
Within Kampot town everything is easily walkable, but tuk-tuks are abundant and short fares within town should not be more than $2. Bargain hard though. If your accommodation is out of town or you plan to venture the surroundings of Kampot it's advisable to rent a motorbike ($6 p/d) or hire a tuk-tuk for the day.
Tuk-tuk rides from Kampot to Kep are between $10-$15 one way and $15-$20 for return trips depending on your negotiation skills. Use the popular taxi-apps Grab or PassApp if price negotiating isn't one of your strong points.
---
Things to see/do in Kampot
Motorbike tour
My favorite activity in Kampot turned out to be just touring the surroundings on a rental motorbike. The whole area is a real treat for the eye with very little traffic. Even in the town itself the streets are not very busy. If you're reluctant to go on your own try the motorbike tour from 'Scooter Trails'. Either sit on the back or ride yourself. They'll take you to the salt flats, a pepper farm, the secret lake and wonderful countryside with a passionate guide. We did the half day tour and it was excellent at only $17 p/pax. The bigger your group the lower the price per head will be.
Boat tour
The boat tour from 'Love the River' was really, really good. 3 hours at $19 p/p on Bjorns boat cruising the river and some of its side arms was incredibly interesting and relaxing. Bjorn welcomes you with fresh fruit and has heaps of information about the river, Kampot itself and the people living there. We also visited several fruit orchards and saw where the famous Kampot durians are grown. Starting point is 8 km North of Kampot at the Greenhouse resort.
Bokor Hill Station
Towering over Kampot at 1000 m height is Bokor Hill Station. Built by the French elite in the 1920's to escape the brutal Cambodian heat and left to crumble upon their retreat in the 1950's. The once so lively settlement is now reduced to a few ghostlike buildings. What remains is an old decaying catholic church, a casino/hotel in an equally crumbling state and a handful of smaller structures.
Enjoy the fantastic views from the platforms all the way up to the Vietnamese Phu Quoc Island on clear days. Above all, the real attraction here is the eerie atmosphere. Especially when patches of mist come in. The surroundings and the desolate state of the buildings bring images to mind of days gone by. Romantic images of when the hill station was bustling with French excitement. But also harsh images of Vietnamese soldiers in a shoot out with the last remnants of the Khmer Rouge army in 1979. Apparantly the Vietnamese took cover in the casino while the Khmer Rouge entrenched themselves in the church.
Drive up Bokor Hill
The nicest way to get to Bokor hill station is with your own (rental) motorbike. The new road winding its way up the hill is a real joy to drive. Make a stop to see the 'Black Palace', once the holiday residence of King Sihanouk. The very modest residence is now in a deteriorating state and covered in reddish/orange lichen. Just a few steps from the palace is the 29m high statue of Yeay Mao (grandma mao) looking out over the sea for her long lost husband.
Continue your journey approximately 4 km past the casino to the Popokvil waterfall. The name means 'swirling clouds' and when you reach the 2nd tier of the waterfall you'll understand why. Swirling and dancing clouds of mist induced by the spray of the waterfall, it's magical. Skip the waterfall in dry season. No rain means there's no feed for the waterfall. Consequently, it won't be much more than a trickle.
Update: April 2019
We re-visited Kampot and on Bokor mountain a lot has changed. First of all, the old casino is renovated and now serves as a hotel. The renovation is done nicely, but the eerie romantic charm of the decaying building is no more. Secondly, there's a huge new hotel/casino mainly serving Chinese clientele. Finally, there's a lot of other development going on. We saw a newly built string of shop houses that were not yet occupied, big hangars and on two locations they were laying enormous concrete foundations…for, I have no idea what for, but it's going to be big.
The old church and some smaller old houses are still there, as are the fantastic views. Well, I guess that's progress, but part of the charm is gone. Just come here for the neat ride up the mountain and to enjoy the views.
Kep
The beach town Kep, another favorite weekend retreat, is very close to Kampot. The distance between the two towns is a mere 25 km. Thus , it's easy to travel by tuk-tuk, motorbike or even bicycle for a half day visit to the crab market.
Caves
There are many interesting caves in the limestone rocks surrounding Kampot. First of all, on road 33 to Kep go left onto road 139 and continue until you see the sign for Phnom Kbal Romeas. Admission for this interesting cave is $1. There are many small paths in the cave so maybe you should consider taking one of the kids with you that offer themselves as guides. You will have to pay them afterwards of course (whatever you feel to be appropriate), but they know the caves inside out. Climbodia also has an excellent (but expensive) rock climbing and via ferrata outfit here.
Secondly, continue on the 139 and just past the Angsdok pagoda go right (look for signs). You will see a hill to your left which has the Phnom Chhnong cave. Inside is an elephant shaped rock that is used as a shrine. Finally, after about 10km on the same road get back on road 33 towards Kep. 1.5km out is Phnom Sorsia with another cave. Actually this cave isn't that interesting, but the views over the rice fields and flamboyant trees are fantastic.
Travel Insurance
If you like to indulge in adventurous activities, then always make sure to travel with the right travel insurance. One that also covers your medical care abroad and includes evacuations and repatriation. I use World Nomads, because they are the true specialist in travel insurance and their price for the service is unbeatable. They cover a range of adventure sports and activities like scuba diving and even your motor bike rental adventures (if you follow the rules). You can buy cover online, even if you're already in the middle of traveling.
Knowing they had my back has always given me great piece of mind. Fortunately I never had to claim anything, but fellow travelers I met on the road told me that the online claims process went very smooth.
Read more about travel insurance here, or get an instant quote right now!
---
Where to stay in Kampot
Stay in town if you enjoy a lively evening atmosphere. There are plenty of restaurants and drinking establishments, just don't expect a big city night life scene. Beware though that rates for most guesthouses facing the river front tend to be slightly higher then elsewhere. Better deals can be found 1 or 2 blocks away from the riverside. If it's relaxation you seek and you would like to wake up surrounded by nature then there are ample options outside of town along the river.
Fish Island Bungalows
Budget = from $10 to $30
If you have your own transport or you don't mind the ~2km walk to the city center then this is where your weekend retreat becomes a true holiday. Free to use bicycles and rental motorbikes available.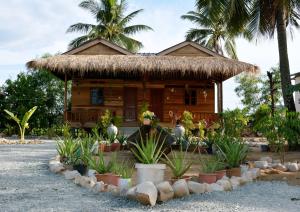 Mea Culpa Kampot
Budget = from $10 to $30
Wonderful hotel with the best service in Kampot. Easy walking distance from city center, but in a quiet neighborhood.
Sabay Beach
Budget = from $10 to $30 Beautiful views, excellent service, relaxing atmosphere.
Hotel Five.S
Mid Range = from $30 to $75
Boutique hotel with spacious rooms and a small swimming pool. We spent a great and relaxing week here.
To compare prices and read reviews check out Agoda.com.

---
Where to eat in Kampot
Kampot has already earned quite a reputation as a good place to satisfy your culinary cravings. Not exactly excellent, but the choice of restaurants is enormous. Next to good Khmer restaurants there is a great number of decent Thai, Vietnamese and Chinese food options. Also, as of lately there has been an influx of expat restaurant pioneers. As a result, Western palates are sure to be satisfied.
Veronica's Kitchen restaurant is typical to Kampot. Similar to many other restaurants here they serve a bit of everything, Khmer food, Asian food, Western food. The taste and quality is ok, prices a bit on the high side, but swift and friendly service to make up for it. Located on the riverside in the town center.
Countryside Food Kampot is a good local place is where Arvit serves her famous chicken satay. Many foreign tourists have found this place and they rave about the dishes, as well as about the value they get for just $1.75 per meal. From the salt workers roundabout enter street 173 where the Monkey Republic hostel is. At the end of the street go left and find Country Side Food after 50m.
Simple Things Restaurant. Good to know that Kampot also has a decent vegetarian/vegan option. Veggie burgers, creative salads, Mediterranean falafel, humus, delicious shakes, smoothies and yoga classes. They're on #54, Old Market street, coming from the riverside a good 50m before the Prince bank.
Mara's Restaurant in street 718 (street leading to the hospital) serves huge portions made up from top quality ingredients. Yeah, a bit of Khmer food, lot's of Western food and good breakfast. Try it!
And the winners are!
bARACA, #7, Street 726. Could this be the most creative restaurant in Kampot? Well, opinions vary, but they have my vote. They specialize in mostly, but not only, Mediterranean tapas. Tapas is a good way to try a lot of flavors and to test the chef's capabilities. Lot's of creativity and excellent wines.
L'Osteria, Street 703. We can never go for long periods without craving good Italian food. Italian restaurants are everywhere in Asia, but unfortunately most of them are disappointing unless you pay top dollar. I guess it's because of the fresh and authentic ingredients. Who would have thought that we would have our best Italian meal in 10 years of South East Asia at this tiny little restaurant in Kampot. And for a reasonable price I might add. Come and taste for yourself, the friendly and accommodating owner Francesco will welcome you with open arms.
---
Onward travel
---
If you like this article why not share it on Pinterest? Click on the save button in the image below. My everlasting gratitude will be your reward. Thank you!