Last Update: January 2023
Khao Sok National Park is a spectacular nature reserve. It might not be on the list of Thailand's highlights, but the park is certainly worth discovering. Not exactly a hidden gem, as many travelers have already found this small piece of paradise, but definitely not completely overrun by tourists.

Traveling to Thailand? Quick-check the up-to-date entry requirements.
---
Use the "Page Contents" button to navigate this guide
Khao Sok
Limestone rocks in beautiful formations, some of them up to 300m high, randomly popping up from emerald green waters. Regarded as one of the most beautiful and spectacular in Thailand, Khao Sok National Park is often dubbed as "Thai Halong Bay without the tourist frenzy".
Seeing is believing I always say, and there's no excuse for you not to visit this wonder of nature. Due to its location in the South of Thailand, Khao Sok is easy to visit while traveling between Bangkok and the Southern Islands.
With 160 million years, the rain forest in Khao Sok National Park out dates the Amazon by far. The 740km2 park is connected with other national parks covering in total more than 5000km2 of forest area. A big chunk of the park is accounted for by the incredibly photogenic Cheow Lan lake, or Ratchaprapha Reservoir or Khao Sok lake, whichever name you prefer.
If you don't like water, then come for the fauna. The rich wildlife in the park is estimated to contain over five percent of global species and include, among others: Bears, tigers, elephants, banteng, several rare deer species, tapir and gibbons. Actually, lot's of gibbons.
Tour
Many opt for a package tour to Khao Sok National Park and why not, it's convenient. Tour operators in Bangkok, Khao Lak, Phuket and Surat Thani will be happy to arrange it for you and include transport if needed.
If you're adventurous you can visit the park independently, but there is always the requirement of a licensed guide on most of the trails. However, there is nothing stopping you from going to the park, stay in a village accommodation and arrange your guides/boats with one of the many travel agencies yourself.
Opening Hours
The park opens from 6am to 6pm every day. Of course you can stay overnight in the park if you're camping and/or staying at one of the raft accommodations. Entrance fee to the park is THB200 for adults and THB100 for children up to 14y.
---
Things to see/do in Khao Sok National Park
Note
The official park website seems to be out of service. The closest bit of official information I could find is through the Thailand tourism board website.
Do not be fooled by tour companies with the term "Khao Sok" or related terms in their website name, i.e. Khaosok.com, Thainationalparks.com, Khaosoknationalparks.com Their products might be ok, or they may not. I really don't know, so I am not advising not to use them. However, they do not represent the official park authorities, while they are kind of posing as if. In my opinion this creates an unfair advantage over the local population that can not compete with the corporate marketing machines. Again, I am not saying not to use them, just to be aware.
Hiking in Khao Sok National Park
The park has a requirement for hikers to be accompanied by a guide on most trails, and yes, there are checkpoints. Few trails can be explored without a guide, but the more spectacular waterfalls are on the guided treks.
Arrange your guide at the park HQ for THB600 for a half day. Insist on an English speaking guide that can add context about the area, plants and wildlife. Next to forest treks, it's also worthwhile to explore the many caves in the area.
Kayaking and bamboo rafting in Khao Sok National Park
Kayaking can be very relaxing on the Sok river and the lake with incredible views of the limestone formations towering over the forest. Or, float away gently down the river Sok on a bamboo raft and try to spot the monkeys in the trees and as many of the 180 bird species as you can.
Boat tour on Cheow Lan lake – Khao Sok
Take the long tail boat for a day of exploring the lake. Start in the morning to see the wild elephants foraging. Sightings of horn-bills and monkeys are almost guaranteed. Have lunch at a floating village and go for a swim in the clearest of waters.
Travel Insurance
Do not forget travel insurance. One that also covers your medical care abroad and includes evacuations and repatriation. You are a million miles away from professional health care and you'll probably participate in some adventurous activities…just saying.
I use World Nomads, they cover a range of adventure sports and activities and even your motor bike rental adventures (if you follow the rules). You can buy cover online, even if you're already in the middle of traveling.
Read more about travel insurance, or at least get a non-committal instant quote right now!
---
Where to stay in Khao Sok National Park
The main village Khlong Sok is really pleasant, with restaurants, bars, travel agents and bungalows alternating the lush foliage. However, for the ultimate Khao Sok experience stay in one of the floating raft houses on Cheow Lan lake.
Khlong Sok village
The park HQ in Khlong Sok village offers different accommodation options from a campground to bungalows and a youth lodge. None of them are appealing. Fortunately, the village itself has a large variety of budget and midrange guesthouses.
Paradise Resort
Budget = from THB500 to THB1000
They have stilted bungalows, I love it! With aircon and free wifi, wow. Or how about a tree house, omg! Walking distance to the small village and quiet enough to hear the jungle sounds at night. A lovely and helpful owner couple and an excellent in-house restaurant. What else do you need?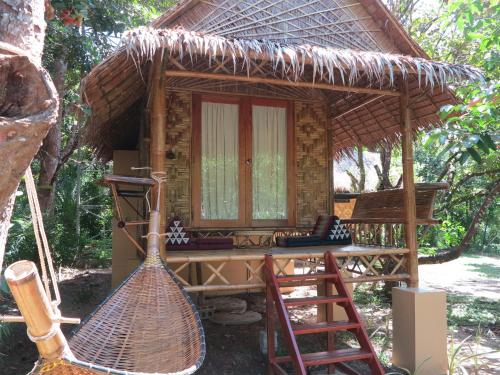 Cheow Lan Lake
The raft houses on Cheow Lan lake require you to access by boat from either the village or the Ratchaprapha dam. Always make sure to book ahead and have your accommodation arrange a boat to pick you up.
Praiwan Raft House
Mid Range = THB1000 to THB2500
Wake up in the morning to the sound of the gibbons and the sun rising through the limestone rock formations over the mirror smooth lake. Khao Sok raft houses are unique and therefore not cheap. However, don't think twice. Again, it's a unique experience, especially at Praiwan. Clean, calm, serene, well maintained, beautiful, breathtaking views, great service, wonderful people, but as said, not cheap.
There are more affordable (but less spectacular) raft house options than Praiwan. Find more information on the Khao Sok Lake website.
To compare prices and read reviews of all Khao Sok accommodations check out Agoda.com. The best prices, regular discounts and off season deals.
---
Where to eat in Khao Sok National Park
We came to Khao Sok with low expectations of the food. What is it with national parks in South East Asia that food options are so limited and often uninspired? Anyway, most accommodations also run their own little restaurant and there's a sufficient number of eateries and bars in the village.
As for the raft houses, you don't really have a choice but to have your meal on the premises. Unless you're an outstanding swimmer, that is.
Chao Chom Restaurant From the village, backtrack 500m East on road 401 to find this restaurant. How they do it is beyond me, but they manage to prepare the best of Thai dishes from this little place. You know you're in the South of Thailand once you taste their curries. Most notably, they manage to keep their prices friendly.
Nongsaw On the village main road, cross the small bridge over the Sok river, continue for about 150m to find the restaurant to your left. I have to take back everything I said about not having good restaurants in the national parks. This place proved me wrong big time. Two sisters serve authentic Southern Thai cooking, prepared in advance, but everyday fresh. It's the go-to eatery for the locals, so that should say something about the authenticity of the food and the prices.
---
How to get to Khao Sok National Park
The airports of Phuket, Krabi and Surat Thani are all within reasonable distance from Khao Sok and receive regular flights from Bangkok. Check out the Skyscanner website to search and book flights. Sometimes flying is cheaper than buses and trains. Of course you'll miss all the nice scenery.
Buses from as far away as Bangkok all have regular departures to Khao Sok. From Bangkok it will take anywhere between 14h-16h or maybe a bit shorter by cramped minivan. Don't buy your bus ticket on Khaosan road in Bangkok, there are just too many scams going on.
A more convenient option might be the overnight train from Bangkok to Surat Thani. From the train station you can transfer to Khlong Sok village by minivan or to Ban Ta Khun village if you're heading for the lake.
For bus/ferry/train schedules and tickets within in Thailand I always use the 12Go.com transport planning tool >to book online. Especially during high season and public holidays it makes sense to book ahead to secure your seat(s). The tool is incredibly easy to use, just fill out your place of departure, your destination and travel date. It will show the complete schedule and ticket price of all related transport. Make your choice and book instantly.
Note!: If you are staying in one of the floating raft houses on the lake (book ahead), your accommodation will arrange a boat for you at the Ratchaprapha Dam. Go straight to the dam via Ban Ta Khun village and skip Khlong Sok village, they are 60km apart.
Getting Around in Khao Sok National Park
For exploring Khlong Sok village, you're good to walk. If you would like to venture outside of the village, local travel agencies rent out motorbikes (THB300 p/d), mountain bikes (THB100-200 p/d) and even cars (THB1500-2000 p/d).
Longtail boats for Cheow Lan Lake explorations can be chartered from anywhere between THB2000-5000 p/d. Try to share the boat with other travelers to lower your costs.
* affiliate links disclaimer
---
Save this article to Pinterest for later? Click on the save button in one of the images below.
---
You might also like…
---
Share this article on Facebook and Pinterest