* affiliate links disclaimer
---
In the know destinations – Cambodia
You have seen the highlights of Cambodia and you are ready for more. Koh Kong as a destination might not be as popular as Angkor Wat. It does however, still receive its share of domestic and foreign tourists in the know. Koh Kong will take you to the real Cambodia. Not completely off the beaten path, but interesting and exciting yet less crowded and with an adequate tourism infrastructure in place.
---
Koh Kong
Finding Koh Kong on the map is kinda confusing. There's Koh Kong province, Koh Kong Island and Koh Kong town, with the latter actually named Krong Khemara Phoumin. Stay with me ok? Wherever I mention 'Koh Kong town' I'm referring to Krong Khemara Phoumin.
Koh Kong province
Koh Kong province is famous for its wonderful nature and abundant wildlife. More than 70% of the area is covered by the Cardamom mountains and it has the largest national park of Cambodia, Botum Sakor. Sadly, the province is also known for rampant illegal logging and poaching.
Koh Kong Island
For years, access to Koh Kong Island was restricted to the beautiful beaches only. Organized day tours and overnight camping tours were allowed, but the army made sure that no one wandered off inland. Unfortunately some of the tour operators left a lot of garbage behind on the beaches. Currently, the restrictions are lifted and development is taking off with the construction of huge resorts aimed at the Chinese tourist market.
Koh Kong town
This is a typical border town. Once known for smuggling, prostitution and gambling and nowadays, ….well I guess it's pretty much the same. Hence the large influx of Thai tourists that come for the casino since gambling is prohibited in Thailand. Likewise there's another influx from Western expats that make their periodical Thai visa run. Still, it's a decent and relatively safe place to visit for a day or two. Even more so if you use the town as a jump off point for adventures in the surrounding nature.
---
How to get to Koh Kong
Several busses leave from Phnom Penh everyday for the 6h trip. Likewise, from Sihanoukville the Virak Buntham Express busses make the trip in about 4h30m.
For bus/ferry/train schedules and tickets within Cambodia I always use the transport planning tool below from BookmeBus.com to book online. Especially during high season and public holidays it makes sense to book ahead to secure your seat(s). The tool is incredibly easy to use, just fill out your place of departure, your destination and travel date. It will show the complete schedule and ticket price of all related transport. Make your choice and book instantly.
From Bangkok to Koh Kong town can be done by night bus in about 9h starting at $22. There's a transfer at the border, but the bus company will take care of that and bring you all the way to Koh Kong town. Book your ticket through the BookmeBus.com tool above. Don't use the Khaosan road tour agents. There are just too many scammers, don't be that guy that get's left at the border!
Getting Around
Distances within the city center are easily walkable. If you do need transport then moto taxi's are abundant for Khr2000=$0.50 for short rides. Tuk-tuks charge about Khr4000=$1 for the same distance. Use your bargaining skills though, it's for certain that the drivers will initially ask a higher fee from you.
---
Things to see/do in Koh Kong
A huge mangrove forest just 7 km out of Koh Kong town features the 1 km long 'mangrove walk', which is Khr5000=$1.25 to access. It's also possible to kayak through the mangroves. Visit a small, but interesting fishing village and buy some fresh fish to have it prepared for you on the spot. Neptune adventure tours specializes in this area and is the only tour company to visit the fishing village.
Another reliable tour operator is Ritthy Koh Kong Eco Adventure Tours, although I'm not sure where the 'Eco' aspect in his tours comes in. He's been around for ages and offers anything from jungle treks, multiple day tours into the Cardamom mountains to fishing trips and dirt bike tours. It's also a good place to arrange your transport. They sell bus tickets and rent out (motor)bikes.
Besides kayaking in the mangroves there are more boating pleasures to enjoy. The surroundings of the Tatai river has a few great waterfalls that can be visited by boat. Or climb on board one of the longtail boats heading for Koh Kong Island to catch some beach time.
Travel Insurance
If you like to indulge in adventurous activities, then always make sure to travel with the right travel insurance. One that also covers your medical care abroad and includes evacuations and repatriation. I use World Nomads, because they are the true specialist in travel insurance and their price for the service is unbeatable. They cover a range of adventure sports and activities like scuba diving and even your motor bike rental adventures (if you follow the rules). You can buy cover online, even if you're already in the middle of traveling.
Knowing they had my back has always given me great piece of mind. Fortunately I never had to claim anything, but fellow travelers I met on the road told me that the online claims process went very smooth.
Read more about travel insurance here, or get an instant quote right now!
---
Where to stay in Koh Kong
Due to the many Thai visitors there are plenty of accommodations in town. If you are more into nature then there are a few really good options outside of town as well.
If you're crossing from the Thai border into Cambodia, do yourself a favor and book your hotel in Koh Kong ahead. At the border you will be jumped by touts promising you the world. Even free transport to their hotel. Once you're at the hotel there's no going back. If you decline the room you'll end up paying a hefty fee for the tuk-tuk that brought you there. I did book ahead and ah, the freedom and satisfaction to waive all the touts away was absolutely worth it.
99 Guesthouse
Dirt Cheap = up to $10
My favorite budget pick in town, but it's almost always sold out. The rooms are basic, but spotless and comfortable. The service is outstanding with staff taking time for explanations and/or directions.
Oasis Resort
Mid Range = from $30 to $75
Definitely not the cheapest, but certainly one of the best accommodations in Koh Kong town. 2 km from the city center, so close enough for town visits, yet far enough to feel secluded. This is a small scale bungalow resort with a large infinity pool and beautiful vistas.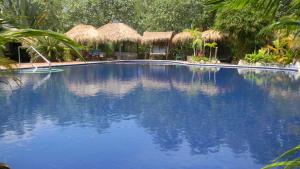 To compare prices and read reviews check out Agoda.com.

---
Where to eat in Koh Kong
Some of my fellow travel/food bloggers seem to be very content with the culinary landscape in Koh Kong town. I beg to differ. 90% of restaurants offer the same Western/Asian menus with the usual suspect dishes. Even though I'm not a vegetarian myself I am always on the lookout for good vegetarian restaurants or dishes. I think it can say a lot about the kitchen's creativity. I really had a hard time finding vegetarian options other than boring salads and vegetarian-'just leave out the meat'-curries. So, no I was not impressed. Fortunately, there are always exceptions.
Wood House is run by the friendly French/Cambodian couple Chris and Gina. The food, reflecting both their Western and Asian decent, is tasty although service can be a little slow. They do have a vegetarian menu.
Joe and Boy Restaurant on the corner of streets 3 and 6 is the place to beat. They feature the same generic menu as most other restaurants here, but the execution is perfect! Reasonable prices too.
On the corner of street 2 and 3 is the Dong Tong market. Lot's of clothing for sale like any market in Cambodia. Also similar to other Cambodia markets is the presence of a food section. Excellent noodles and Kuy Teav for prices near to nothing.
---
You might also like…
Share this article on Facebook and save to Pinterest