Last Update: May 2020
To travel off the beaten trail in Malaysia is not hard at all, here's how:
Compared to neighboring Thailand and nearby Vietnam, Malaysia is still behind on the number of international visitors. For no good reason, I might add, because the many highlights and the hospitable population of this beautiful country certainly justify at least equal numbers.
However, the word is out. Travelers are definitely finding their way to the vibrant cities, stunning nature, rich culture and beautiful beaches. This is visible from the year on year growing crowds at Malaysia's highlight destinations. One would almost regret it.
On the other hand, it's very easy to go off the beaten trail in Malaysia. The country is huge with the mainland peninsula and a large part of Borneo. It harbors some of the oldest rain forests in the world with abundant wildlife. There are numerous sleepy coastal towns offering a peek into authentic village life. Hidden coves with pristine beaches, untouched jungle, indigenous cultures, the list goes on. All of these treasures are just waiting to be discovered by you.
---
Save this article to Pinterest for later? Click on the save button in one of the images below.
---
Use the "page contents" button below to navigate this article
Bako NP – Off the beaten trail Malaysia
Being the oldest national park (since 1957) in Sarawak has ensured decades of non poaching and hunting. This makes Bako national park the ideal place for guaranteed wildlife sightings.
The park is full of snakes, bearded pigs, monitor lizards and saltwater crocodiles. Cute are the silvered leaf monkeys with their orange colored babies. However, the undisputed star of Bako is the endangered and pot bellied proboscis monkey with his striking nose. Opt for a guided night walk to significantly increase your chances of spotting wildlife.
A feature unique to Bako is the presence of seven eco systems: mangrove, beach, cliff, moorland, grassland, lowland forest and heather. Short and longer jungle hikes through the different terrain are the main attraction here. There are 16 well marked paths that vary from 3.5 to 8 hours. Especially the first 30 minutes of the trails can be very challenging as that part is up and down.
Some of the paths will lead you past waterfalls and beaches, one more beautiful than the next. Notify park HQ that you're out on a trek and don't forget to bring sufficient food and water.
Some of the longer treks have an option to be picked up by a boat to get back to the park HQ. This is a nice option since it will enable you to explore further and enjoy a scenic boat ride on the way back. Other boat trips may include Pulau Lakei (Lakei Island) which has a beautiful beach for some hours of leisure and interesting rock paintings.
How to get to Bako National Park
First, get to Kuching, Sarawak
The park is situated on an Island, 37 km North of Kuching, Sarawak's biggest town in Malaysian Borneo. Kuching International Airport is one of the busiest airports in Malaysia. Intercontinental flights to Kuching always go through either Malaysia, Singapore or Indonesia. I recommend using the Skyscanner website to find the full schedule and prices of incoming and outgoing flights.
If you're already on Borneo and need to get to Kuching by bus you can use the transport planning tool from Easybook.com for online booking. Especially in high season and on public holidays it makes sense to book ahead to secure your seat(s). The tool is incredibly easy to work with. Just fill out your point of departure, your destination and travel date. Make your choice and book instantly.
Kuching to Bako
Unfortunately, the route from Kuching to Bako is not available to book online. Once in Kuching you have to find public bus#1 (RM4) to Bako Bazar that leaves from Jalan Khoo Hun Yeang in front of the food stalls and wet market. Departure is every hour from 7am to 5pm and the journey takes about 45m to 1h. A taxi is of course more convenient, but will cost you a lot more, RM65-RM100, Grab ~RM50.
Next, buy your boat ticket at the national park office, which is at the Bako boat jetty. RM150 for the boat, to be shared with max 5 passengers. Also, pay the national park admittance fee of RM10. You might have to wait for high tide, since docking at low tide is not always possible.
Leave Bako the same way you came with bus#1 from the Bako Bazar. Departure every hour from 6:30am to 5:30pm.
Where to stay in Bako National Park
It's possible to visit Bako on a day trip, but it doesn't really make sense because of the effort getting there. Furthermore, you would miss out on the guided night treks when wildlife is most active.
The only accommodation option is park HQ near the entrance of the park. They offer RM15 dorm beds in 4 bed dorm rooms, as well as private room with private bathrooms for RM50. The campsite is RM5 per person per night.
Important: you must book and pay your room in advance at the Bako national park office in Kuching. It's located in the old courthouse building just off Jalan Main Bazaar. Alternatively, use the official Sarawak National Parks booking site.
Where to eat in Bako National Park
The HQ park cafe is actually the only place to get food. Prices are friendly, but the food is not very inspiring with bland noodle and rice dishes. Most visitors bring their own food. You're not allowed to cook on the premises, but you can make use of the shared refrigerator. So, bring fruit, fresh vegetables, cakes, sandwiches or whatever.
---
Cherating – Off the beaten trail Malaysia
Cherating on the East coast of Peninsular Malaysia has a beautiful coastline and a wonderful beach. Once frequented by backpackers, nowadays more popular with domestic tourists, but still relatively off the beaten trail in Malaysia for international visitors.
Cherating was the first resort for Club Med in South East Asia. Soon they were joined by other renowned beach hotel chains. Some of these resorts are starting to look a bit tired and are in need of a touch up. Nevertheless, when traveling Malaysia, Cherating is good for a few enjoyable days on the beach.
December and January bring some of the best conditions for surfing at Cherating. Board rental and lessons are offered for affordable prices. Firefly tours in the mangroves and a nearby sea turtle hatchery will do very well with the children.
How to get to Cherating
Several buses leave from Kuala Lumpur towards Kemaman. Coming from Kuantan in the South, take the bus towards Kemaman as well. However, don't go all the way to Kemaman. From both directions tell the driver to drop you off at Cherating (first crossing passed the sungai cherating river). From there it's a 350m walk into town.
Kota Bharu and Kuala Terengganu in the North also have daily buses. They will go as far as Kemaman where you will have to charter a taxi for the last bit to Cherating (10m).
For online bus/ferry/train schedules and tickets use the Easybook.com transport planning tool. Especially during high season and public holidays it makes sense to book ahead to secure your seat(s). Skip the lines at the bus station!
Where to stay in Cherating
The many resorts along the vast Cherating coast line are very popular with domestic tourists coming from Kuala Lumpur, Johor and Singapore. Especially on weekends and public holiday some of the resorts completely sell out. On weekdays there are usually no crowds.
Besides the resorts there are also many guesthouses and even homestays that cater to every budget. The largest concentration is in the small town on the Cherating peninsula. Unfortunately, most of them have no direct beach access, but they are close enough. The good thing of staying there is that you are within easy reach of the many restaurants and bars.
The Kasturi
Luxury = RM300 to RM800
Everyone needs some pampering. The design of this resort is beautiful. Staff is professional, food is great and the rooms are spacious and comfortable. But it's also very neat and tidy and structured so 1 night of pampering was enough and I took off to a rickety guesthouse in the village. Saved me some money as well.
Tanjung Inn
Mid Range = RM125 to RM300
Nice enough resort not far from the beach. Not all rooms have air-con so check before you make a reservation. The grounds at the resort are green, leafy and even include a fishpond.
Where to eat in Cherating
Don't be fooled by the shabby look of the local eateries, because they do serve up some tasty food.
Ombong Cherating Surf Cafe, Jalan Kampung Cherating Lama, ~100 from the beach. Good place for lunch (or late breakfast). Simple, but well executed Western and Asian style food.
Intan Seafood Restaurant, is located on the South-West end of the small Cherating peninsula, off Jalan Kubur. Great seafood restaurant on the beach. Service can be a little slow at times, but just relax and take in the views and ambiance.
Warung Lambak, In the middle of a food stall cluster just 50 meters west from the crossing Jalan Kampung Cherating and Lama. Some of the best Roti Canai this side of Peninsular Malaysia.
---
Endau Rompin – Off the beaten trail Malaysia
Another beautiful national park in the South East of Peninsular Malaysia. Actually it's the second largest after Taman Negara. The park was named after the two rivers that run through it: the Endau and the Rompin.
Visitors come here for the spectacular waterfalls and the adventurous guided jungle hikes. Wildlife is abundant with leopards, tapirs, elephants, even rhinoceros and tigers, but chances to spot any are slim. You stand a better chance to spot and meet the indigenous Orang Asli.
Entrance fee to the park is RM10, payable at one of the three entry points to the park. Two of them are in Johor state to the South and the third one in Pahang state to the North West. The park can be visited from April to October.
Because of the monsoon the park closes from November to March. During the monsoon the Eastern Islands are also very difficult to reach due to rough seas. So there is no need to be in the area anyway.
How to get to Endau Rompin
It's not easy to get to the park, which is actually a blessing in disguise as it keeps the park from being overrun by visitors.
Kampung Selai entrance
There are three entrances to the park of which I will describe two. First of all, there's the Kampung Selai entrance to the South West. Reachable from the town of Kluang (38 km). Kluang itself has regular transport connections from Johor, Mersing and Kuala Lumpur. From Kluang travel to the small town Bekok by train, which leaves 4 times per day (1h). In Bekok you have to find the park office to register and pay your entrance fee of RM10 plus another RM10 for a permit and insurance. Guides and accommodation can also be arranged from here. For the last part to the park itself charter a taxi or a rental 4WD. Note that within the park you cannot drive.
Kampung Peta entrance
The other entrance can be reached from small town Kahang in between Mersing and Kluang. Busses coming from either town can drop you off. This is the Kampung Peta entrance and it's the most accessible, hassle free and therefore most used. Pay your fees at the park office in Kahang and arrange a 4WD for the 2 hr trip to the entrance.
Bus tickets
For bus/ferry/train schedules and tickets for most routes within Malaysia I always use the transport planning tool from Easybook.com to book online. Especially during high season and public holidays it makes sense to book ahead to secure your seat(s).
Of course it's possible to avoid all the hassle by booking a package tour with a tour agent. You'll pay a bit more, but you don't have to worry about logistics and navigation. Personally, I like independent travel best, but if you are on a schedule then the package tour might be a good idea. Just walk into one of the many local tour agent offices in Kuala or Mersing.
Packing list – Endau Rompin
Do not underestimate this trip. You're in rough nature so you have to take the elements into account. Also you're far away from professional medical facilities. It's a great adventure, just make sure that you are prepared.
First aid travel kit

Mosquito repellent

Rain coat

Headlamp and flashlight

Waterproof bag to keep your clothes dry

Good walking shoes that easily come off and on for frequent wading

Special socks against leeches
Where to stay in Endau Rompin
Dorm beds (RM30) are available at the park HQ near the Kampung Peta entrance. The lockers have no padlocks so bring your own. 2-6 pax chalets (RM100-RM150) are also available near the Peta entrance, as well as further into the park at Kuala Jasin. Both the dorm and the chalets are decent.
Just realize that electricity only runs for a few hours in the evening, so after that the fans go off. Another option is to camp in a tent on one of the park's camp sites. Rent a tent for RM40 per night.
If you're visiting the park on a day trip and don't want to spend the night 'roughing it' you can opt to spend the night in Kluang and leave for the park in the early morning.
The Imperial Hotel
Mid Range = RM125 to RM300
One of the better hotels in Kluang. In the middle of city center with restaurants nearby. Comfortable rooms, but some don't have windows. Friendly staff.
Where to eat in Endau Rompin
The only restaurant option is the canteen at Kampung Peta, which offers simple rice and noodle dishes. The canteen also has a free to use stove so you can bring your own supplies and cook for yourself. Be aware though that utensils are scarce. If your camp site is away from Kampung Peta you will have to bring your own portable stove as well.
Man Ten Restaurant If you opted to visit the park on a day-trip and stay over in Kluang then this restaurant is a must try. Delicious old skool Malay-Chinese dishes that are huge with prices under RM10 per dish. Make sure to get there on time since they close early around 7pm and there's always a crowd.
---
Ipoh – Off the beaten trail Malaysia
Is Ipoh a tourist destination? Sure, many travelers pass through Ipoh on their way from Kuala Lumpur to Penang and vice versa. However, few of those travelers actually stay to linger in Ipoh. Good!, because that's exactly why Ipoh made this 'off the beaten trail in Malaysia' list. For me, Ipoh has three major attractions:
First – Cultural Heritage
British colonial times are still visible in many of the buildings like the town hall, the law courts and the railway station.

Then there is the Chinese culture, which is mainly reflected in the rows of shop houses. Chinese merchants were attracted by the discovery of large tin deposits in the late 1800's.

As a testimony to modern day Ipoh culture, there are numerous mural paintings by local artists in Old and New town on display.
Second – Food
Ipoh has a fantastic local food scene and is dubbed 'the unofficial culinary capital of Malaysia'.
Dirt cheap, high quality eateries, rich in spices, strong in flavor. That's about the most understated description of the Ipoh food scene I can give you.

The Ipoh pomelo and durian produce are praised countrywide. And just wait until you've tasted the famous Ipoh salt baked chicken, wow!
Last -Nature
The nature around Ipoh is stunning and offers many exploring opportunities.
Like the 3 km long Gua Tempurung cave, never mind that one part is developed as a show cave with colored lights and walkways.

Or what about the 130 million year old Royal Belum rain forest with some of the world's most exotic wildlife.

If that's not enough you can venture out to the Gahara tea valley or go on a rafflesia trek with an Orang Asli guide at Ulu Geroh.
Visit Ipoh on an all-inclusive day trip from Kuala Lumpur. Transport, lunch, local treats are all included, plus you get to see all the major landmarks.
How to get to Ipoh
Being a major national transport hub, Ipoh is very easy to reach. Sultan Azlan Shah Airport receives flights from Singapore and Johor Bahru. Check out the Skyscanner website to find the full schedule and prices of incoming and outgoing flights.
Buses and trains from all over the country pass through Ipoh. Kuala Lumpur is just 3h away by bus or 2h30m by train. Georgetown, Penang is 3h30m by bus, while the train will take 3h. Tanah Ratah in the Cameron Highlands is about 2h45m by bus.
For bus/ferry/train schedules and tickets within Malaysia I always use the transport planning tool from Easybook.com to book online. Especially during high season and public holidays it makes sense to book ahead to secure your seat(s). Skip the lines at the bus station!
Where to sleep in Ipoh
Bedrock Hotel
Mid Range = RM125 to RM300
Fantastic hotel in the city center, close to mural lane, restaurants and shopping. Owner is extremely welcoming. The rooms are beautifully decorated an immaculately clean. Breakfast included. A real find!
Where to eat in Ipoh
Chicken, chicken, chicken, it seems like Ipoh is all about chicken. Well, that's not entirely true of course, but chicken does have a prominent position in the Ipoh diet.
Chicken with bean sprouts and fragrant salt baked chicken are probably the two most famous chicken dishes here. Eat them at any of the numerous chicken restaurants in New town, just North of Jalan Sultan Iskandar. Aun Kheng Lim is the undisputed King of salt baked chicken, but only does take-away.
Kedai Kopi Yong Suan (2, Jalang Yang Kalsom) in New town for some of the best Nasi Kandar in Ipoh. Cheap and good quality, delicious food, but therefor always busy.
Xiang Xiang Bak Kut Teh (19, Jalan Horley) Well executed and tasty Bah Kut Teh. Update May 2020: Unfortunately, this excellent restaurant closed its doors.
Curry Keng restaurant (15, Hala Pasar Baru) serves a great curry mee and traditional crispy pork lard rice. Gotta love it and the owners as well, always friendly and smiling.
Yum Yum (5, Persiaran Greenhill, Kampung Jawa) If you need air-con and to get away from canteen style dining then head over to Yum Yum. Of course you'll pay a bit more, but they offer excellent Nyona cooking in a clean and fresh environment. Dine early though, they close at 6.30pm.
Do also pay a visit to Jalan Sultan Ekram, which is dubbed 'dessert street', because of the shoulder to shoulder yummy dessert stalls there.
---
Find your accommodation in Malaysia with Agoda.com
Why Agoda?
The best prices, regular discounts, off season and secret deals;

Price matching. Agoda will reimburse you the difference between what you pay and a lower price you find;

Email notification when your selected accommodation price drops;

Extensive search filters.
---
Kota Belud – Off the beaten trail Malaysia
The provincial capital Kota Belud is situated between Kota Kinabalu and Kudat in the Northwest of Sabah on Malaysian Borneo. When visiting Gunung Kinabalu most people choose Kota Kinabalu as their base. It might an idea though to opt for Kota Belud if you want to experience more of the Sabah rural culture.
It's true that the town is but small and there isn't a whole lot to do in the town itself. However, other then its close vicinity to Gunung Kinabalu and a peek into local village life, there are at least two major reasons why a visit to Kota Belud should not be missing from your itinerary.
Every Sunday Kota Belud hosts a big open air market (Tamu) where the indigenous population gathers to buy and sell their produce and handicrafts. Once a year in October the nationally renowned Tamu Besar (Grand Market) is organized. The Bajau, Dusun, Illanun and Chinese Hakka come out in full force for a two day display of colorful folklore including buffalo races and a Bajau horsemen parade.
Kota Belud is the jump off point for the fairy tale Mantanani Islands. Unfortunately, I have never been so I cannot attest. However, I was told at more than one occasion that the Islands are indeed like the perfect tropical getaway you have always imagined. Next time I am in Sabah I plan not to miss the Islands.
Furthermore, just outside of town there is a possibility to take a cruise up the river to see the proboscis monkeys and the fireflies at night.
How to get to Kota Belud
In Kota Kinabalu find the Padang Merdeka station were you will need to board the bus towards Kudat in the North of Sabah. Unfortunately, you cannot book this bus ticket online.
Ask the driver to let you off at the roundabout where the Jalan Kota Belud bypass starts. From there, either arrange public transport or walk the last 2 km into town. Coming from Sandakan or Lahad Datu in the East you will always have to travel via Kota Kinabalu.
Where to stay in Kota Belud
OYO 90232 Mountain View Guest House
Budget = from RM50 to RM125
Good value for money close to the town center with restaurants, eateries and the Sunday market. The guesthouse is adequate for an overnight stay. The actual mountain view really does live up to its promise.
The Beachaven Chalets
Mid Range = from RM125 to RM300
If your travel plans don't require you to stay in the town itself, consider this resort. App 12 km West of Kota Belud on the coast with a nice beach. Quite basic for the price, but right at the sea with peace and quiet. Besides, all you need is a hammock, right?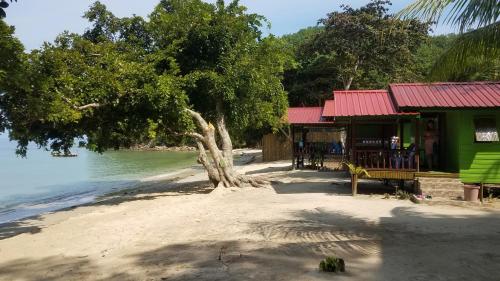 Where to eat in Kota Belud
For such a small town there is a surprisingly large number of restaurants in the center of Kota Belud. Too bad that most of them are not really inspiring. There are a few positive exceptions though.
Restoran Nasi Kukus Desa (Lorong Emboh Al, crossing Jalan Kota Belud Town), serves simple, but tasty fare. More than 10 different fried rice dishes for ridiculously low prices (RM5-8RM). Do try the mee goreng with seafood, chicken or goat. Or the Soto Ayam (curried chicken soup), it's mouthwatering.
Mayang Sari (Kompleks Telakbana) isn't a particularly cozy restaurant, but the home cooked Malaysian comfort food here definitely deserves a visit. Usually packed with locals that are happy to see you.
Dapur Raos (Lot 28, Suria Commercial Centre) This might very well be the best food choice in Kota Belud town. They are famous for their fried chicken with spicy paste (Ayam Penyet) and pancakes, try both.
---
Kuala Terengganu – Off the beaten trail Malaysia
Yet another jump off point for beautiful Islands. In this case, Redang and the Perhentians. But Kuala Terengganu deserves to be more than just a pass through town. Ok, maybe there aren't that many spectacular attractions, but what I liked was the lingering in this provincial Malaysian town.
Hanging out on Palau Duyong in the Terangganu river estuary, strolling around the Pasar Payang (central market) and the nightmarket at Dataran Shahbandar. I also took a short boat trip to Seberang Takir, a small nearby fishing village.
There is also Batu Burok beach, as well as the recently renovated 19th century fortress Bukit Puteri set on 200m high hill offering scenic views over the city, the river and the sea. Furthermore, Kuala Terengganu has a pretty good National Museum.
How to get to Kuala Terengganu
There are regular daily flights from Kuala Lumpur to the Sultan Mahmud airport of Terengganu. It's best to use the Skyscanner website to find the full schedule and prices of incoming and outgoing flights.
All major cities on Peninsular Malaysia are connected to Kuala Terengganu by long distance bus. From Georgetown it's 11h30m, from Kuala Lumpur 6h and from Kota Bharu 3h.
For bus/ferry/train schedules and tickets within Malaysia I always use the transport planning tool from Easybook.com to book online. Especially during high season and public holidays it makes sense to book ahead to secure your seat(s). Skip the lines at the bus station!
If you're in Terengganu to catch a ferry to one of the Islands then board a local bus at Terminal Bas. For Redang Island, head to the Merang jetty. There's also a direct ferry from Syahbandar jetty , but that one only operates from March to October. For the Perhentian Islands you need to go to Kuala Besut and for Pulau Kapas make your way to the Marang jetty in the South.
Where to stay in Kuala Terengganu
Leisure Lodge
Budget = from RM50 to RM125
Close to Chinatown, which is one of the most interesting areas in Kuala Terengganu. One of the most affordable accommodations in town. The cheapest rooms have a shared bathroom. Good atmosphere with a nice communal area to meet fellow travelers.
Arena Boutique Hotel
Mid Range = from RM100 to RM300
Rather new hotel in an excellent location. Close to shops, restaurants, the market and Chinatown. Comfort, cleanliness and service here exceed the price level by far. The hotel is excellent for families.
Search more accommodations in Kuala Terengganu with Agoda.com the largest booking platform of South East Asia.
Where to eat in Kuala Terengganu
Finding a decent meal won't be a problem as there are plenty of good eateries around. With Kuala Terengganu being a coastal town harboring a small but still operational fishing fleet, it's no surprise that the seafood is especially good.
Restoran Nasi Kukus Yasmin (28, Jalan Dato'Isaacs). Humble and simple eatery, but that's how I like them. Steamed rice and chicken with authentic flavors for next to nothing prices.
Vinum Xchange 221, (Jalan Kampung Cina). Ok, this needs some explanation. The food here consists of pizza, ribs, pasta, which are so so and a bit overpriced. However, I still recommend this place, because it has a great atmosphere and it's one of the few places in Terengganu where they serve alcohol. Every once in a while even someone like me needs to indulge.
Zamri Ikan Bakar (Jalan Duyong Besar, near the bridge on Pulau Duyong). Good fish, good seafood, great service and reasonably priced.
Kak Pah Nasi Dagang (Gerai 30, near the Batu Burok beach). The place to go for local breakfast specialty 'Nasi Dagang', which is fish curry over rice steamed in coconut milk with lemongrass, shallots and fenugreek.
---
Danum Valley – Off the beaten trail Malaysia
There's something magical to mornings in the jungle with fog lingering through the foliage. If ever you were looking to get off the beaten trail in Malaysia, this is it. Nowhere on Malaysian Borneo does it get any wilder than in the Danum valley.
43,000 hectares of pristine and protected rainforest teeming with wildlife. The conservation area is managed by the Danum Valley Field Centre, which is actually a nature research facility.
Their studies have revealed a tremendous variety of plants and wildlife. Rare and endangered species are found here, like the Sumatran rhino, banteng (wild cattle), Bornean pygmy elephant, clouded leopard, orangutan, proboscis monkey as well as over 300 species of birds. Truth be told, the mammals are very elusive and the probability of spotting them is not very high.
Trekking
There are over 50km of marked trails in the conservation area through lowland rainforest. Visitors can do guided jungle treks, night walks and night safaris. Just know, that hiring a local guide is mandatory on all treks. The cost of RM30 per hour can be shared with a group.
Interesting places to discover are the Rafflesia Hill where the Rafflesia flower is found, or Mount Danum, the highest peak in the Conservation Area (1093m). On the way you will see the spectacular Sungai Purut Waterfall, 20 m in height with 7-tiered pools.
The valley also has three ancient burial sites that have a special place in the myths and legends of the indigenous Orang Sungai. Two of the sites containing burial jars are located near the Field Center.
Conservation rules mention that visitors must have insurance cover that includes emergency helicopter evacuation. When we visited, we were fully covered for this by our travel insurance, but no one asked about this. Not even when registering for the park permit.
How to get to the Danum Valley
You will have to get to Lahad Datu first, a small town in the East of Sabah. There's a small airport with 1h flights arriving from Kota Kinabalu. The $50-$70 flight will save you an 8h30m bus trip, but of course you will miss all of the scenery. Check out the Skyscanner website to find the full schedule and prices of incoming and outgoing flights.
Coming from Sandakan in the North, you'll need to find the Express Bus Terminal for buses going to Lahad Datu. The 3h journey is relatively expensive at RM44. Likewise, the 3h journey from Semporna in the South is RM30.
You can buy your bus ticket from Kota Kinabalu or Semporna to Lahad Datu online at Easybook.com. Especially during high season and public holidays it makes sense to book ahead to secure your seat(s). Skip the lines at the bus station!
If you wish to visit the Danum Valley you will have to deal with the Danum Valley Field Centre that manages the conservation's accommodations. Visit them at the Lahad Datu office for getting your entry permit. They can also help you with transport to the park.
Where to sleep in the Danum Valley
Depending on your time of arrival at Lahad Datu you might need a quick overnight stay before being whisked off to Danum Valley. I guess the most convenient would be to stay close to your pick-up point which is probably near to the airport just outside of town. I know that the Fajar Hotel is nearby, but I haven't stayed there, so I don't know if it's any good.
There are a few options in town as well and they might be a bit cheaper, but the town itself is nothing interesting so I wouldn't bother.
In Danum Valley there are only two options. First, the luxury and very pricey Borneo Rainforest Lodge (RM3200 per night!). Second, the more economical accommodations offered by the Danum Valley Field Centre. (RM90 for a dorm bed or RM300 for a 2 pax private room).
Where to eat in the Danum Valley
Danum Valley
At the Field Center, they have an option for you to buy a meal plan. Full board is RM111 per day, dinner RM46, lunch RM36 and breakfast RM29. Of course you can also bring your own supplies to cook simple meals in the dorm kitchen.
I'm not entirely sure, but at RM3200 per night, I am guessing that meals won't be a problem if you are staying at the prestigious Borneo Rainforest Lodge.
If you need your beer, you might want to bring some with you. Beer is available near the center, but they will charge you an outrageous RM20 per can, while the going rate in Sabah is RM5.
Lahad Datu
The Red Rose (Lorong Fajar 2) From several so so restaurants near the airport, I would say that this is probably the best choice for a meal. They serve slightly better than average mamak food, but at least the place is clean.
Tian Yen (Bandar Lahad Datu) Excellent Chinese restaurant offering noodles galore in Lahad Datu town, but really not that far from the airport. I was told that Tian Yen is one of the oldest restaurants in the area. They have been around for decades and are still going strong, because of the constant quality while keeping the price reasonable. I tried it and fully agree.
Pulau Pangkor – Off the beaten trail Malaysia
Beautiful beach Island Pangkor is a hidden gem, but only on weekdays! Because of its relative proximity to Kuala Lumpur, the Island sees an influx of locals during weekends. Even more so, on public holidays it's like an invasion of domestic holiday makers.
As for attractions, there are a few interesting temples and there's a colonial Dutch fortress. None of them however, can beat the Pangkor beaches and the emerald sea. So maybe Pulau Pangor isn't really off the beaten trail in Malaysia, however, on weekdays it's certainly starting to look like it. Put your feet up and enjoy your beach break to the sound of calling hornbills.
When you're done resting, there are several jungle trails and an uphill trek across the Island, just enquire at your hotel or guesthouse. Alternatively, you can go snorkeling or kayaking at the two small islands nearby, Giam and Mentagor. It's even possible to wade over to Giam at low tide.
How to get to Pulau Pangkor
Travel from Kuala Lumpur to Terminal Lumut by bus and subsequently by ferry (250m from the bus terminal) to Pangkor Island. The bus trip will take you app 4h and from there it's a 30min ferry ride to the Island. Penang is 3h15m away by bus.
Book your bus and ferry ticket online at Easybook.com. Especially during high season and public holidays it makes sense to book ahead to secure your seat(s).
Where to sleep on Pulau Pangkor
Where you sleep depends on your beach of choice, although the Island is small enough to visit other (remote) beaches with a rental motorbike. Nipah Bay, Coral Bay and Bogak Bay are the beaches with the most (budget) accommodations and restaurants. Finding an accommodation that serves breakfast is not a luxury as the majority of eateries don't seem to open their doors until short before lunch time.
Utan Teluk Nipah Hotel
Mide Range = RM125 to RM300
You'll have to conquer a rather steep hill to get here. However, gorgeous sea views over Nipah Bay and a nature retreat are your reward, while still close to the village amenties. This is a wonderful resort in a beautiful environment with comfy rooms and breakfast included.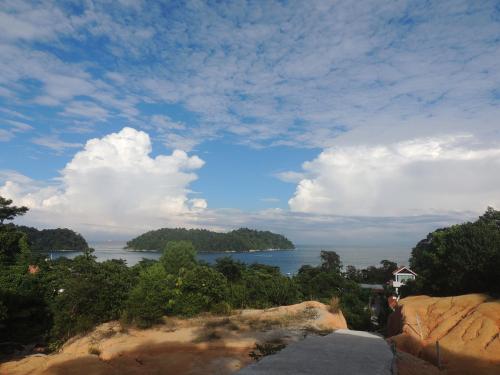 Where to eat on Pulau Pangkor
I wasn't too impressed with the food options at Nipah Bay. Food is so so at best and the service is outright terrible. The cluster of 10 or so restaurants on the Northern side of Nipah beach seems like the best area to go for a meal. At least you can have dinner on the beach and feast on ikan bakar (grilled fish).
In the middle of Coral beach (beachfront), two fine eateries are calling the shots. Daddy's Cafe serves Western and some Asian fare while Nipah Deli serves Asian and some Western fare.
Attention all foodies!! The Jalan Besar road from Pangkor town to Sungai Pinang Besar is literally lined with small local restaurants. Some of them look a bit shabby, but don't be fooled, they serve up some delicious local food. Especially the seafood is fresh and tasty.
More seafood at Chao Sheng Restaurant (21-22, Jalan Pasir Bogak near the Seaview Hotel). The curry crab we had there was out of this world.
---
Travel Insurance

No, no, no, don't you dare to skip this chapter, even if you think travel insurance is boring! To travel to off the beaten trail in Malaysia and to indulge in adventurous activities is exiting and fun.

However, don't forget that you are a million miles away from professional healthcare. Any serious ailments or injuries will likely result in medical transport to Bangkok or Singapore. Evacuations easily cost up to thousands of dollars and without proper insurance have to be paid upfront. Likewise for hospital beds, which are $500 per night.

Always make sure to travel with the right insurance. One that covers medical costs abroad, including evacuation, repatriation and adventurous activities. Read more about travel insurance here or get an instant non-committal quote here.
* affiliate links disclaimer
---
You might also like…
---
Share this article on Facebook and save to Pinterest